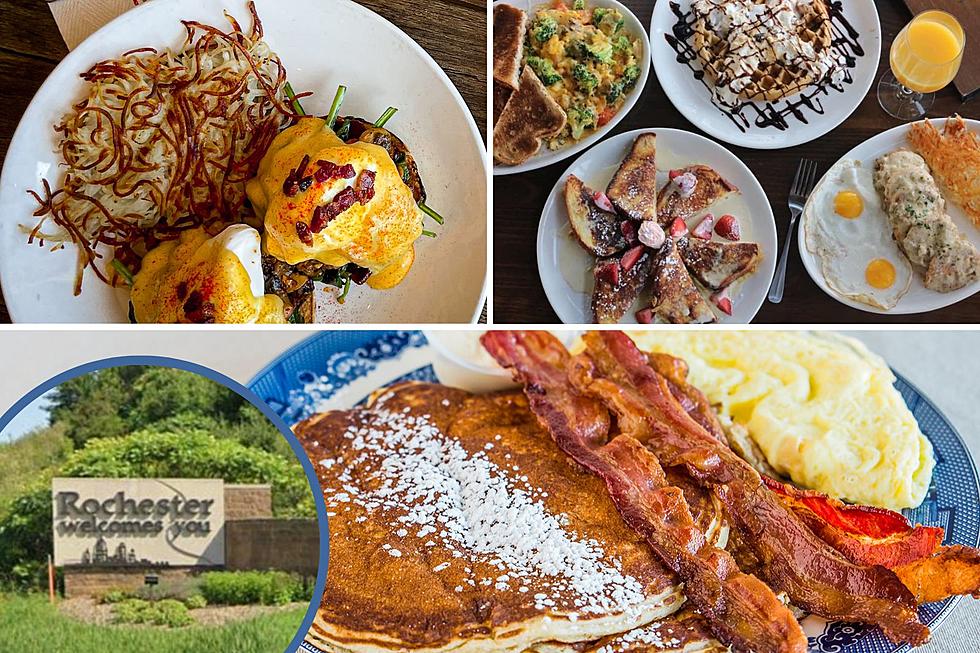 12 Best Places to Enjoy a Delicious Brunch in Rochester
Blue Plate Diner via Facebook, CHOOCHOO-ca-CHEW / Five West Kitchen and Bar, Facebook / Benedicts Rochester, Facebook
We have some awesome restaurants in Rochester, Minnesota. And a good chunk of them offer brunch! If you're looking for the perfect spot to wake up with delicious food this weekend, I've got the 12 best brunch spots in Rochester.
Going out for brunch on the weekend is one of my favorite things. I like to be lazy in the morning on weekends (#nokids) but if brunch is on the itinerary I'll gladly get up and get ready for the day.
Without further adieu, here are some of the best spots to relax and get brunch this weekend in Rochester!
Hat tip to Trip Advisor and Yelp for assisting with this list.
Hours: 6 AM - 3 PM every day
Brunch is available on Saturdays 10 AM - 1 PM.
Brunch hours are Sunday - Tuesday 7 AM - 2 PM. They're also open Wednesday - Saturday 7 AM - 8 PM and they have an all-day breakfast menu.
Open every day starting at 7 AM. Breakfast is served until 11 AM on weekdays and noon on weekends.
Hours are Tuesday - Friday 6 AM - 2 PM and Saturday and Sunday 7 AM - 1 PM.
Brunch is only available on Sundays 10 AM - 2 PM.
The breakfast menu is available Monday - Friday 7 - 11 AM and Saturday and Sunday 7 AM - 1:30 PM. They also have a specific brunch menu for Saturday and Sunday also available 7 AM - 1:30 PM.
Brunch/breakfast food is available every day 8 - 11 AM.
Breakfast is served Monday - Saturday 8 AM - 8 PM and Sunday 8 AM - 3 PM.
It appears that brunch/breakfast food is served all day. They're open Monday - Friday 6:30 AM - 8 PM and Saturday and Sunday 6:30 AM - 4 PM.
Old Abe's breakfast/brunch mostly consists of amazing donuts, smoothies, and all kinds of coffee drinks. They're open Wednesday - Saturday 7 AM - 7 PM and Sunday 7 AM - 4 PM.
Brunch/breakfast menu is available Saturdays and Sundays 9 AM - 1 PM.
The 9 Coziest Restaurants in Rochester
Recently Rochester, Minnesota's Forager Brewery was named one of the coziest restaurants in the entire state. But there are lots of cozy restaurants around Rochester! Here are some suggested by listeners and ones I added myself.
Gallery Credit: Carly Ross
All 37 Minnesota Restaurants that Have Been Featured on the Food Network
Many Minnesota restaurants have been featured on the Food Network over the years. Some have closed now, but I checked out the
Food Networks website
, the
Diners, Drive-Ins, and Dives website
, and
TVFoodMaps.com
to find all of the Minnesota restaurants that have been featured on their channel in the past and found these 37 (in no particular order) that are still open.
Gallery Credit: Carly Ross