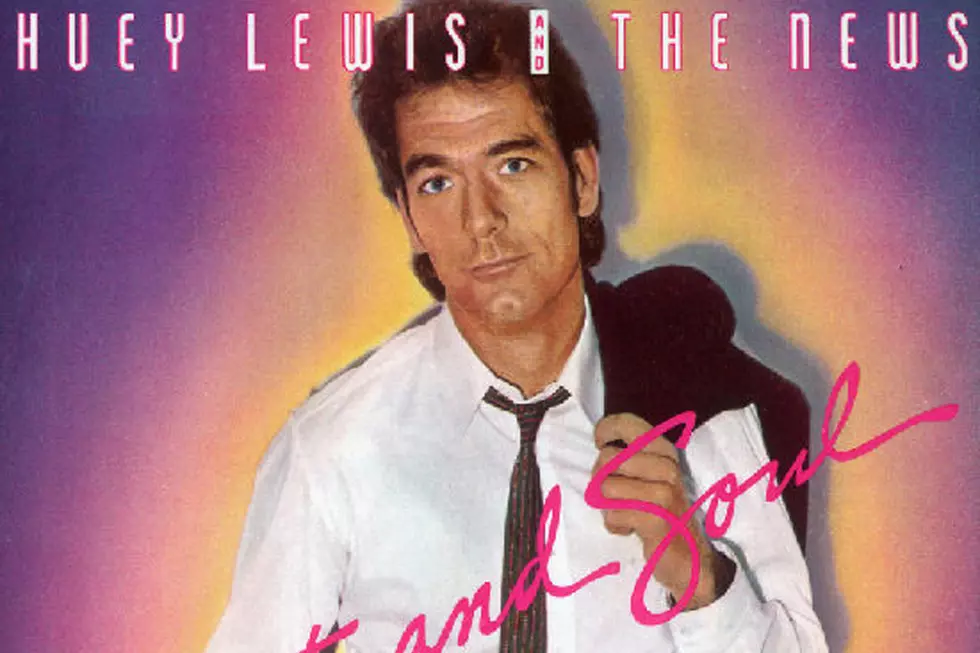 How Huey Lewis Ensured 'Sports" Success With 'Heart and Soul'
Chrysalis
Huey Lewis and the News were confident that their 1983 album Sports could be a success, but they wanted to hedge their bets. Nearing completion on their third studio record, the San Francisco group added a bit of insurance in the form of "Heart and Soul," a last-minute addition they viewed as a sure-fire hit single.
The Origins of 'Heart and Soul'
Some fans heard "Heart and Soul" for the first time when it was released by the band Exile in 1981. The Kentucky group previously had a massive No. 1 single with the country-tinged disco hit, "Kiss You All Over," which spent four weeks on top of the charts in 1978. The song was written by the team of Mike Chapman and Nicky Chin. "Heart and Soul," another co-write from the pair, failed to capture the same magic and bottomed out at  No. 102.
Listen to Exile's 'Heart and Soul'
Huey Lewis Already Had a Big Hit, But He Wanted More
Notably, Huey Lewis and the News scored their first Top 10 single in 1982 with "Do You Believe in Love," written by producer and songwriter Robert John "Mutt" Lange. It was a victory of sorts for the group, but they were hardly getting comfortable. "We were writing quite a lot," Lewis told UCR in 2022. "[But] we threw away a bunch in those days."
Part of the equation was that Lewis and the members of the News put a lot of pressure on themselves. "If you think back to '80 to '84, it was a radio-driven atmosphere and the hardest thing we had to do as a band was to get a hit single," Lewis told this writer in 2014. "We were a good band but by today's standards, we would have been more like a jam band. The last thing we were was a pop band, if you know what I mean, with my kind of rough voice and all of that stuff."
READ MORE: How Mutt Lange Helped Huey Lewis Land His First Hit Single
How Huey Lewis Ended Up Recording 'Heart and Soul'
Serendipitously, Chapman and Lewis already had a previous connection. "We knew Mike Chapman because he had come up and flirted with producing us back in the day," the vocalist remembered in a conversation with Professor of Rock. "I had asked him if he had any songs and he sent me this tune."
Listening to the Exile version -- though he didn't know it was their recording at the time -- Lewis immediately heard the potential. "To my ears, it [sounded] commercial," he recalled. "I said, 'Wow, this is a hit. Let's just do it.' So we did that just to cover our bases."
Considering what Exile had done, Lewis saw no reason to reinvent the wheel. "We just pretty much aped the record, I think," he shared. "We did exactly the same thing that Mike Chapman did with Exile." He praised what the songwriting team had accomplished with the tune. "The reason there's so many hooks is that it's a Mike Chapman and Nicky Chin song," he said. "That's the kind of stuff they write. They write pop music and they're great at it." He allows that with his version, he "hardened it up a bit," but otherwise, stayed true to what had already been done previously.
READ MORE: How Thin Lizzy's Phil Lynott Became Huey Lewis' Mentor
An Unexpected Complication
There was only one hiccup: as he and the band were recording the song in Los Angeles, Lewis took a quick break to walk down the hallway. Heading for the bathroom, he passed by another studio and was shocked to hear the Bus Boys working on the same song. He realized that Chapman's publisher had pitched "Heart and Soul" to both groups.
While several artists bailed over similar scenarios, Lewis kept a level head instead. Listening outside the door, he thought, "Nah, our version's a little better" and decided to stay the course. His tenacity ended up being a good thing as "Heart and Soul," released as the first single from Sports, became the group's second Top 10 hit.
Listen to the Bus Boys' 'Heart and Soul' 
'Sports' Had a Lot of Home Runs
"Heart and Soul" was just the beginning of the success story for Sports, which ultimately spawned a total of four Top 10 hits. The album itself landed at No. 1 on Billboard's album charts and went on to sell over seven million copies.
"When I go back and listen to [the record], I realize that Sports is an album of its time and it's a collection of singles," Lewis concluded in 2014. "We aimed almost every song at radio because we knew we needed a hit single. We didn't know which one of those songs was going to be a hit and we didn't want to repeat ourselves. So one's kind of a ballad, one's kind of a rocker, but they're all aimed at radio."
READ MORE: How Huey Lewis and the News Fashioned Their First No. 1 LP, 'Sports'
Watch Huey Lewis and the News' 'Heart and Soul' Video
Top 100 '80s Rock Albums
UCR takes a chronological look at the 100 best rock albums of the '80s.